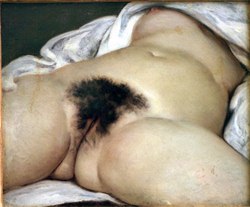 Prostitutes are born.
Not every sex worker in the world enters the work because she has always felt a pull towards it. Many have. I know a number of women who have felt the interest from a young age, including myself (and this was before I even had a clear idea of what sex was). Conversations with these women reveal that we all say the same things about our early interest, we all became interested right before entering puberty and common myths about prostitution were not enough to dissuade us from desiring that life-path.
This is a very small sampling and it's highly unscientific. Given what we know about genes and hard-wired behaviors — it seems more than plausible. Just as homosexual people are born, I am convinced prostitutes are born too.
My inspiration came last year after reading a US-based survey about attitudes toward gay people. The discovery of "gay genes" seems to have really turned the tide in popular thinking and acceptance of homosexuality. It sounds like an argument of convenience for prostitution. But if the range of human sexual orientation is, in fact, genetic; then how come prostitution — an extremely common sexual behavior — supposedly isn't? What if prostitution isn't merely a sexual behavior but is actually a sexual orientation? Why has prostitution always been viewed as a deviant behavior? How come people aren't willing to examine the idea that a prostitute is a perfectly natural occurrence and that it's society which has formed the deviant behavior around the prostitute?
If being a prostitute is a natural tendency for a percentage of women, then how can laws be made against who they are?
biology of a genetic prostitute
Aside from personal thought and talking with other sex workers; in the last two years I've read two books on reproductive biology that may offer an answer as to why nature creates prostitutes. Sperm Wars (sorry about the title) and The Story of V clearly illustrate the incredible reproductive choice women exercise and the power of our biology. (Woman is also an old favorite, though its theories are more social than biological — great reading regardless). It makes absolute sense to me that nature — in its constant drive for survival with creative reproductive strategies — would create the genetic prostitute.
It's well-known that all range of animals engage in prostitution. While it's difficult to figure out an animal's deep-seated desires by asking them questions, I'm wondering if these animals are genetic prostitutes too. After all, not all the prostitute-animals are that way because it's somehow socially-acceptable or because Dad got laid off. There is a biological advantage to a certain percentage of animals being genetic prostitutes. So too for us — the most defenseless, brainiest animals of them all.
I have always thought myself and women like me were wired "like a man." I think the truth is far more subtle: we're absolutely female. Our strategy for reproductive success leads us to scour our locales (and plenty of foreign locales) for the most genetically-suitable mates. Granted, condom-usage cuts down on having children through a career in sex work. Condoms haven't been around long enough for our basic biology to really adapt.
Prostitution is supposedly the oldest profession and it's not because women are simply lazy or it's "easy" work. If there wasn't a compelling biological reason for prostitution, there would not be a percentage of women born every year who are drawn to the work. As to why nature also creates homosexual and transgender prostitutes…More reproductive diversity? Prostitution is a survival strategy that works for a percentage of the population regardless of gender? Or are they simply the natural result of mixing between genetic prostitutes and those lacking the prostitution gene — much like the genetic differences between blue, brown and hazel eyes within a family tree. (Given that bi-sexual men are supposed to be highly reproductively-successful, then it's even more obvious where gay and transgender prostitutes come from.)
What percentage of women are genetic prostitutes? My guess is there is usually a small percentage of full genetic prostitutes (no more than 10%?) and a much larger percentage of prostitutes who have some part of the gene (up to 30%?) within the female population. There is probably a much larger number of partial genetic prostitutes than full genetic prostitutes because not only can they blend better, they have a lot more options open to them (not just talking about sex work, but mistress arrangements, marrying up, entertainment careers, etc.) in which they can fulfill their biological destiny without paying the high social price. One problem with full genetic prostitutes is that they probably never blend very well.
From a biological perspective, having children is an extremely expensive proposition for the woman and it's all about choosing the right mate. (The right genetic mate is often not the right domestic mate, by the way.) This is why genetic prostitutes are successful. They have every possible chance to find their genetic equal. They also have access to almost every male in their vicinity, including the alpha males most other women never get to touch.
Advances in biological research makes it clear that women employ a range of natural family-planning methods. This doesn't mean a woman can have sex without condoms and not get pregnant — she most certainly will become a mother. It does mean that a woman's body picks and chooses exactly who the father of each of her children will be. The more genetic material (sperm) she can collect, the greater her choice, the higher the likelihood of her children surviving and being reproductively-successful — leading to the natural existence of a percentage of genetic prostitutes. They take advantage of their own natural abilities in mate-selection and their availability to a large pool of potential mates — thereby passing on their successful, whorish genes.
Even "accidental" pregnancies are quite planned. Everything I've read indicates that a woman's body gets pregnant exactly when it wants to. This does not mean that body and conscious mind are always in agreement about the correct moment; simply that the female body follows its own biological agenda with great determination.
Prostitution is also an excellent strategy for raising children because it offers viable options: a steady supply of financial support from a variety of men (no worries about putting all of one's valuable eggs into one unstable basket); a ready-made community of women to assist in child-rearing; or simply having the natural abilities to charm a very socially-suitable mate to be the sole supporter of her and her child regardless of actual paternity. I would love to read about the survival rates of the children of prostitutes, if they follow any sort of societal trending (especially through boom/bust cycles) — though it would be hard to separate that data from those who entered prostitution merely as a financial means to an end.
If tests could be done on genetic prostitutes, I'm going to guess they start out life healthier and with a greater chance of successful pregnancies than non-prostitute women. They probably entered puberty earlier than their peers.
But did they begin sexual activity any earlier? For men, early sexual activity leads to greater reproductive success. With women bearing the high cost of pregnancy and childbirth, it makes sense for women programmed to be reproductively successful via many partners to delay sexual activity until their bodies are a little more mature and their immune system completely developed. ("Mature" being a relative term, of course.) Disease is an obvious biological cost of being a genetic prostitute. Nature would make allowances for this by giving genetic prostitutes stronger immune systems and perhaps earlier immune development. But…have enough unprotected sex with the wrong men and she will get a disease. That's why the strategy is risky regardless of the society in which the prostitute operates. Having a strong immune system would also make genetic prostitutes very appealing men as well.
I'm also going to guess that genetic prostitutes are very fertile women. Unlucky ones may be rendered sterile through disease — part of the high cost of this path.
Genetic prostitutes are probably more orgasmic than those lacking the genes entirely. There are theories on how female orgasm leads to successful reproduction, so I would assume the most successful mothers are probably the most sexually-responsive. This isn't saying that non-prostitute women lack sexual response, only that genetic prostitutes are more responsive.
Because of the high social cost and risk of harm, do genetic prostitutes have sharper instincts and read people better than non-genetic prostitutes or non-prostitute women? Obviously, work experience makes students of all prostitutes; I'm simply wondering if genetic prostitutes have a slight edge in detecting dangerous situations.
Sperm Wars did discuss prostitution, but oddly, he mostly fixated on social costs and women who turn to prostitution — as opposed to the idea of genetic prostitutes. I think he needed to talk to a few more sex workers than he did before writing his chapter. He also seems to think that "prostitute" automatically equals "drug-user," which is just not true.
I'm going to guess substance abuse is very low among genetic prostitutes: not only are they choosing a career that is deeply satisfying regardless of the social costs, they're likely to be more health-conscious than non-genetic prostitutes because it would make sense to be hard-wired this way to offset the possible health effects of a risky reproductive strategy.
the oldest profession
My guess is that prostitution began because that's what genetic prostitutes were compelled to do with their lives. Obviously. As they successfully created more genetic prostitutes, they also created half and partial genetic prostitutes. These are women who don't feel drawn to prostitution yet try it later in life and suddenly realize they've found their calling. Or they may be drawn to other forms of sex work. They probably blend with society fairly well and this lowers their social cost. This gives them a reproductive advantage over non-prostitute women, but not nearly so much as full genetic prostitutes.
And, of course, all women would have children who completely lack the prostitute gene. After all, if everyone is a prostitute, there is no big advantage in being one.
Non-genetic prostitutes entered the work because humans can think for themselves. If they saw the advantages of being a prostitute (as displayed by genetic prostitutes) as outweighing the social costs, they would become prostitutes too. (More on this in a moment.)
What happens when a mother finds out her daughter is a prostitute? First, the social conditioning kicks in (the high social cost). There may be a primal feeling that this daughter is going to be more reproductively successful than any non-prostitute daughters. This has got to create enormous conflict for the mother. Are mothers who have a bit of the prostitute gene more likely to be tolerant of daughters who are genetic prostitutes? Are mothers who entirely lack the prostitute gene able to understand prostitute daughters at all? What if both mother and daughter lack the gene — the daughter is simply a prostitute for the social advantage — is that more palatable to the mother? It's fairly easy to assume that a mother and daughter who are both full genetic prostitutes will have a much easier time with their relationship.
the social cost
But why the heavy social stigma against prostitution? Sperm Wars in fact, talks about this very issue. The higher the likelihood of a deviant reproductive strategy being successful, the higher the social cost. He deconstructs the huge stigma against bi/gay men this way (according to his theory, it's actually bi-sexual men who have higher-than-hetero reproductive success rates; gay men are a predictable genetic result of that success — the stigma against gay men is actually a warning to the bi-sexual men who blend better with society).
Based on the extremely high social cost, I'm going to assume there is no other more-successful reproductive strategy known to humankind than being a prostitute. (This strategy is most threatening to other women, usually far less threatening to men from a biological standpoint.)
It depends on the society too, of course. There are great social benefits to be had by living outside the reach of traditional male control but the cost is equally high in a repressive society. I imagine the genetic prostitutes in these societies are probably very strong (biologically-speaking) but fewer in number. In repressive societies there are probably more half genetic prostitutes in the general population following their destiny through more subtle means.
In a society where prostitution is tolerated there are probably a glut of genetic prostitutes. This doesn't give them much of an advantage. They may actually give birth to children lacking the prostitution gene in an effort to redress the balance. A sexual-disease epidemic in a society that once tolerated prostitutes might change its social structure and genetic prostitutes would once again have to be able to succeed in difficult conditions, making their genes stronger (and leading to more half genetic prostitutes).
The women lacking the gene who enter prostitution (or other forms of sex work) are biological imitators. They lack the prostitute gene, but are likely to have genes that allow them to take advantage of the benefits of being a prostitute: less aversion to risk, higher levels of ambition, a streak of non-conformity, a determination to be a successful mother or any number of other factors. Biological imitation is done for a number of reasons, the reason I'm focusing on is the advantage being a prostitute gives to women who lack the prostitute gene: access to resources.
This becomes obvious when you look at women in poorer countries. Not every poverty-stricken women becomes a prostitute. Hardly. And even among those who do become prostitutes, a lot will say they're only doing it for the money. So why did they make the choice compared to their equally-poor peers who decided not to? The simple answer seems to be that these women are more adventurous, more willing to take risks and perhaps more future-thinking than their non-prostitute peers. The overwhelming majority of these women (who would rather do other work) will say they entered prostitution to provide for their children. They may not be genetic prostitutes but their genes certainly seem to compel them to make the most of any advantage they can gain for their progeny.
The issue of coercion is an issue of exploitation by others. It has nothing to do with the woman's personal biology. If she really wanted to be doing the work – she would be.
the origin of the hierarchy
Though I planned on discussing this at length later on, a lot of my theories about its origins crumble in the face of the idea of genetic prostitutes. The hierarchy exists for a reason, but not what I originally thought. The vehemence of non-prostitute women against the prostitute tells me that it's a highly-successful and very threatening biological advantage. This also naturally points to the creation of the hierarchy.
The full genetic prostitute is going to be just as threatening to non-genetic prostitutes as she is the non-prostitute female population. But how can non-genetic prostitutes level the playing field and neutralize the threat of competing against colleagues naturally programmed for success? By creating the hierarchy.
The basic tenet of the entire sex work hierarchy is that those who actually have sex with clients are at the bottom and those who make money without having to engage in sex are at the top. Within that is the sub-hierarchy specific to prostitutes. In very simple terms, those who have the most sex with clients are at the bottom, those who can financially succeed without a lot of sex are at the top. Within the prostitution hierarchy is contempt for the women who enjoy their work a little too much. Genetic prostitutes have a deeply-sexual/reproductive reason for doing what they do. Non-genetic prostitutes do not and therefore see no reason to pursue sex with the same vigor as the genetic prostitutes do. Genetic prostitutes are not only threatening to non-genetic prostitutes but probably a bit repugnant as well.
While the hierarchy certainly smacks of trying to imitate the "good," socially-acceptable [non-prostitute] women in society, it's also a way of creating class distinctions in order to give the financial advantage back to the women who are only in it for the money. (This is not a judgment against anyone who wants the financial advantages of prostitution.)
I think that full genetic prostitutes will be fairly non-competitive. The ones who have the most to lose by not financially-succeeding (the ones who dislike the job the most) are going to be very competitive. Generally, the more unhappy someone is, the more likely they are to make everyone around them miserable as well.
Oddly, I also believe that prostitutes lacking the gene entirely are going to befriend women with the gene. Part of it may just be that genetic prostitutes are personable (it's in their best interest to be); a large part of it may be trying to learn about the business from those who seem to have success or who seem to manage the business easily. Non-genetic prostitutes are going to be the ones with the most job-related issues.
the question of money
Which begs the question of which genes are more economically successful? Being a genetic prostitute doesn't automatically guarantee financial success.
A woman who does not care for the work may charge higher rates, see fewer clients (thereby lowering a lot of risk factors) and manage her money more carefully. She may make greater effort to blend with society.
Or maybe genetic prostitutes are very economically-successful because they enjoy their job, charm their clients and have a very high client-retention rate over a very long career. Her regulars may also give her more material gifts than non-genetic prostitutes. Because they are comfortable with their work, they may be more adventurous than non-genetic prostitutes and try new avenues of making money (were the first porn actresses genetic prostitutes?).
Even if the population of prostitutes stays the same, do economic cycles influence how many genetic prostitutes are in the prostitute population? Are there more genetic prostitutes working during boom years because non-prostitute women can find financial advantage elsewhere? Do genetic prostitutes produce more or less half genetic prostitutes during lean years and more full genetic prostitutes during boom years? Or not produce children at all during lean years?
the clients
I'm honestly not paying attention to theorizing about clients. It's an easy assumption that it's a simple biological decision for a man to have sex with someone who could possibly father his child without him ever having to take care of it. Plus, he got to have sex.
Social stigma is very low for men because it's a non-threatening reproductive strategy for them – few resources are expended on the chance he'll pass along his genes. There's the threat of disease but it's a far greater threat for women than men. If he's having sex with a genetic prostitute, chances are good that his potential child will be successfully reared. If not…no great loss. Plus, he got to have sex.
I'm overlooking a whole lot of socio-sexual issues here because I just want to focus on biology. And biology offers a pretty simple explanation for the existence of male clients.
personally
This might seem like a lot of contortions to rationalize my own behavior. It's not. The light bulb only really turned on a year ago and just this week all the pieces I needed fell into place, everything in the space of about 5 seconds (I live for these moments).
This isn't all about me. If it was, I wouldn't have bothered spending three full days working on this post. I can quickly think of half a dozen other escorts whom I know well enough to feel they fit the profile of a full genetic prostitute, tons of girls who could posses part of the prostitute gene and plenty of girls who apparently lack the gene entirely. I'm also writing this from a historical perspective of what I know about prostitution through human history. This is why I don't address the issues of condoms very much or mention most modern forms of sex work.
To me, this is a completely logical answer to why I feel the way I do, why I think the way I do, why my body functions in certain ways, why my life can never be any other way. I am certainly a lot more than just my theoretical hooker genes, but if that is who I am then why try to pretend anything else?
I've had these questions from a young age when the morality my parents attempted to instill in me did not make a dent, why the problems at school wouldn't go away (well, there were a lot of reasons for that; one of them was for being a girl who wasn't ashamed about being called a slut or a whore), why I've always looked at men and marriage completely differently than my friends did, why I am deadened by monogamy. Lamely trying to explain "I'm made this way" doesn't work if you just pull it out of your ass. There has to be a reason. Did I inherit a recessive gene for prostitution that my sister did not?
Nature (or God, if you prefer) loves a chaotic variety all pointing to the same goal: creating more life. There is always a need for balance and there is always a need for more life. Many people find nothing more life-affirming than sex and the ultimate embodiment of sex is the prostitute. I think about the ancient goddess-societies and how they must've been teeming with genetic prostitutes.
It's all well and good until the human thought process comes along and wrecks that lovely balance of life and variety (or perhaps it's the less-successful humans being primally-jealous). But the prostitute gene is a tough one — not willing to go away just because it's supposed to.
This theorizing doesn't mean I think all women are whores. I think very few women are whores. There are a large number who have a little whore in them (more or less). And then the entire rest of the female population does not — not one tiny bit. But the whores are undoubtedly not alone.
I'm not a biologist, geneticist, anthropologist or statistician. I'm just theorizing in one protracted, shining fit of inspiration. Regardless of what you think about my various theories (and I've covered quite a bit of turf), the basic idea of a prostitute existing as a genetically-determined sexual orientation making up part of the population is not out of the question. Not by any stretch.
Yes, it's unapologetically female-centric. (See the picture above if you don't get it.)
PS: I've also had to come to terms with the fact that I can't spell "prostitute" no matter how many times I write it.