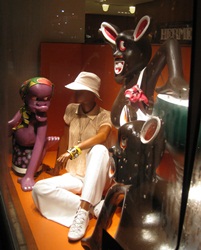 Singapore actually is a fairly tolerant place, except when it comes sexism, racism and a certain amount of ageism. There's also materialism but it's not anything near the levels of Hong Kong. Anyhow, I could not believe this store window display from Hermes. That they're French is no excuse. Would this store window fly in America? I doubt it. Has it raised a peep in Singapore? Not that I can tell.
My Aussie roommate was shocked by these photos. Anyone is free to tell me that I'm over-reacting or taking this out of context (or even explain exactly what the context is). All I know is that my jaw dropped and I nearly tripped on the sidewalk when I first passed the store. I came back at night so the windows would be well-lit. Sorry about the humidity causing condensation on the glass.
I was planning this whole long post about the Singapore (and Asian) maid culture, but I really just wanted to post these photos!