"Day of Silence" by Bryan, is licensed under CC BY 2.0
I really didn't think I was going to have to flail away on this topic again, but it seems I must. Michael (Mike) Meisenbach has hired John Brewington (an Arizona-licensed PI) to track down and harass anyone who has supported Shannon.
I received notices of ICANN violations on 12/30/13, seems someone took issue with the public contact info I have for several domains of mine (the info has been updated). Not to mention they managed to crash the server of one of my sites, something my web host was not happy with. Fortunately, I can now provide my host with more information on who caused the crash, along with a link to a court document which details these as the preferred harassment tactics of Brewington. But I've no doubt the harassment will go further after this posting. If nothing else, I have two confirmed, very loyal blog-readers.
Anyone who has written about Shannon being violently attacked by Michael (Mike) Meisenbach should keep reading. Mikey and John Brewington want to out you and cause you harm.
introducing the think tank
I believe that a third party posts fake reviews for Michael (Mike) Meisenbach under the improbable name of Judith Shockly (using a photo of beautiful Filipina star Judy Ann Santos) and has created a plethora of online profiles for Mikey (like Facebook, LinkedIn, Twitter, a shiny new website, and Lanyrd — where you can find out Mikey's next speaking gigs!). That's clearly part of the techie's job as an online reputation-repair specialist in Arizona. As an added bonus, he gave a nice review for Paladin Investigations. But so far, the evidence tying the 37 year old to Brewington or Mikey is circumstantial (other than registering a domain for Brewington), which is why I'm not naming him.
John Brewington posts public threats under the name "Pale Horse." He likes death a lot, hence, his preferred moniker of "Pale Horse." PaleHorse (of course of course) is his handle on TER/TheBluePond/IndependentGirls as well.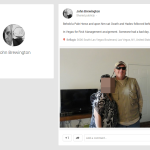 He also sends threatening emails. Brewington has threatened others before and can't even come up with new material for us. He's also commented here to threaten me. And the final threat, this morning, impelled me to publish this post, which has been written and waiting for action since 12/31/13.
Brewington likes to work with fellow convicted felons Shawn Richeson and Tony Agerone, so please be aware. Brewington and Richeson are highly Googleable, in fact, Brewington has spewed himself all over the Net. You may want to have screen-cleaner handy.
social waterboarding
Mikey seems to believe he's a victim of "social waterboarding," a term I wish I'd come up with, but didn't. However, unlike real waterboarding, which is torture and compels those being waterboarded to firstly, stop whining, and secondly, tell the truth; this type of waterboarding apparently has the opposite effects. So I guess the collective blogging/Tweeting about Mikey doesn't really qualify as waterboarding or even torture.
To be clear (as I think I have been from the beginning), any mention of Michael (Mike) Meisenbach has been to warn others about his violence. I gain nothing by doing this except the small satisfaction of not being silenced by a pyschopath and his hired thug(s). Shannon plainly stated she started her site for informational purposes and to also serve as a warning. Mikey isn't being waterboarded. I'm not threatening him with anything and there is nothing I want from him except to leave us all alone. Instead, he's working overtime and spending lots of money to turn himself into perpetual blog-fodder.
michael meisenbach's threats to escorts
Judith started the game, perhaps as "Judith" or perhaps as Brewington, it's unclear. Brewington, using the name "Rafter", sent Shannon a series of emails over the Christmas holiday, encouraging her to pass along the info (he also texted Shannon, the number he used was: 623-696-0510):
From: judithshockly@hotmail.com
Date: Tue, 24 Dec 2013
To: Shannon Leighton

Merry Christmas [Shannon]!

Date: Wed, Dec 25, 2013
From: rafter@nym.hush.com
To: Shannon Leighton

…For those in the intelligence industry there is no anonymity. I have analyzed your profile and suspect you know the value of information and what it can do to another person.

…These things have a way of getting out of control. I respectfully recommend that you consider your course of action as to whether it will have an unacceptable cause and affect. Think upon this.

I have a suggestion. If you have nothing good to say, say nothing at all.
[Ed: My suggestion to Mikey is if he can't be alone with a woman without beating the shit out of her, maybe he shouldn't seek out the company of women.]

Date: Thu, 26 Dec 2013
From: rafter@nym.hush.com
To: Shannon Leighton

…I suggest you encourage your friends to remove their content as well because we are tracking them as well.

Date: Thu, 26 Dec 2013
From: rafter@nym.hush.com
To: Shannon Leighton

…There are some in the intelligence industry that have access to everything. Where people bank, cell phone calls, texts, friends, family, where you shop etc. There is an illusion of anonymity…I do admire all those that came to your aid but this will turn badly for them as we have Tumblr on it as well. A recommendation…respectfully…reach out to them.

Date: Thu, 26 Dec 2013
From: rafter@nym.hush.com
To: Shannon Leighton

These links are content you or your proxies created and should be removed since there is an unofficial detente.

www.texasgoldengirl.com/afterhours/tag/mike-meisenbach/‎

www.nationalblacklist.com/city_report.aspx?City=Dallas‎

con-dulce.tumblr.com/…/warning-escorts-in-dallas-seattle-la-and-
utah-av…‎

www.feministe.us › Home › Archives › 2013 › December › 01‎

portlandvalentine.tumblr.com/…/warning-escorts-in-dallas-seattle-
la-and-…‎

con-dulce.tumblr.com/…/warning-escorts-in-dallas-seattle-la-and-
utah-av…‎

wgs2000-femalesexuality.blogspot.com/…/the-secret-world-of-sex-
indust…‎

escortassistantandgirlfriday.blogspot.com/…/mike-meisenbach-
brutal-pos.

fatbodypolitics.tumblr.com/…/warning-escorts-in-dallas-seattle-la-
and-ut…‎

callingoutbigotry.tumblr.com/…/warning-escorts-in-dallas-seattle-
la-and-…‎

mimitwotimes.tumblr.com/…/warning-escorts-in-dallas-seattle-la-
and-uta…‎

butterfly-chorus.tumblr.com/…/warning-escorts-in-dallas-seattle-
la-and-u…‎

rolickingss.tumblr.com/…/warning-escorts-in-dallas-seattle-la-and-
utah-…‎

cocoastsugaryvixen.tumblr.com/…/warning-escorts-in-dallas-seattle-
la-and-utah-…‎ripper.tumblr.com/…/warning-escorts-in-dallas-
seattle-la-and-utah.

blondebombshellescort.tumblr.com/…/warning-escorts-in-dallas-
seattle-la…‎

There are over 50 of these. In the future should you wish to exercise freedom of speech you might consider doing so in a manner that you have control of the content.

Date: Thu, 26 Dec 2013
From: rafter@nym.hush.com
To: Shannon Leighton

Here's the deal on your website. ICANN administers the rules as to registration. True and accurate information has to be used, you did not…There will be an attempt to strip you of that domain though you will be provided an opportunity to give full and complete information, something neither you nor Amanda want. There are also copyright issues with the photos used. If a suit takes place a counter will be filed. Your attorney will not be contingent on a defense and I suspect you may have credibility issues…There are other parties in the intelligence industry involved and they are looking at Amanda right now. I have noticed she too likes anonymity. As we both know that doesn't exist…You are in an industry that is best to fly under the radar for several reasons and I respectfully suggest to you that you undo what you can and walk away with your anonymity. I will handle the rest of them. They won't like how it turns out but I can get it done.

Date: Thu, 26 Dec 2013
From: rafter@nym.hush.com
To: Shannon Leighton

I also want to be clear, there is no threat to anyone of phyisical danger. It's not an option. Speech should be met with more speech.

From: anonymous8464@hushmail.com
Date: Tue, Jan 14, 2014 at 10:33 AM
Subject: Healthy Advice
To: Shannon
Cc: Amanda [Ed: at an incorrect email address]

You and your friends should mutually hide each others cutlery. Your life is about to take a turn you won't like
Since Brewington wanted Shannon to warn everyone, she passed the emails onto me as she received each one. I didn't do anything about them because I was not being harassed at the time. Clearly, Mikey is willing to pay for Brewington to harass those who don't have that same sort of access and power and free time.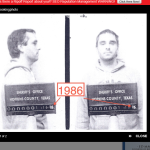 I'd like to point out that the final threat, received today, is not only cyber-bullying but possible hate-speech toward a marginalized group. Brewington's boast about having access to bank records and cell phone logs means he anything he's obtained has likely been via illegal means. All the threats have been made across state lines. Brewington's IPs have been confirmed. He's in Arizona. Shannon is not and neither am I.
what are the threats, exactly?
The only real threat Brewington seems to be making is to out anyone writing about Mikey's brutal attack on Shannon and to cause unspecified harm to both us and our family/friends. He has a long history (available on the Internet) of threatening private citizens with posting their personal information online and extending that harassment to their family/friends.
He wants to make our lives miserable and I assume if he can't dig enough dirt, he will either make it up or simply harass us in other ways — such as posting YouTube videos, RipOffReport claims, spurious lawsuits and try to bring down our websites. Oh, and apparently he would like us to kill ourselves and save his lazy ass the trouble.
All this from a man who refers to himself as a "paladin." I guess he's bravely taking up the cause of defending a man who beats and nearly kills women. Yup, that's just who paladins defended. I'm sure he makes them proud.
So now I will likely be outed. By that, I mean Mikey and Stale Horse will work to put together my real and professional names. I've no doubt it could be done if they dug far enough. But what then? My life is boring and while that's an embarrassing public admission to make — it's honest. As is the admission that if they interviewed my ex-boyfriends they would get the impression that I make a terrible girlfriend (I said as much on my escort site). There are a couple private things I like to keep out of public view but I wouldn't call any of those things skeletons in my really shallow closet. More like dusty books on a shelf. Basically, if you don't know me well, you will likely find out a few new things. If you already know me, then you already know me and that's the end of it (and you probably want me to talk about something else).
The real question is…how can I work my impending outing to my advantage? It would be great to get some media coverage but again — I'm boring. Who cares?
michael meisenbach wants to out you
I'm being somewhat blase about this because it's something I mentally prepared for a long time ago. The likelihood of me offending someone just rises with every year I live. However, that doesn't mean anyone else who has supported Shannon expected this to happen. If you want to delete your posts/Tweets/Tumbls about the whole debacle, now would be the time to do so. It will make Mikey very happy and save you a lot of grief. Not everyone is in the position to be outed or even harassed online.
If you decide to stand firm, just be prepared. Google the men named here and you'll be reading for days. You can read Frank Ahearn's book, particularly the very fun section on disinformation. You can find and follow Stale Horse as he makes posts on public threads and then sock puppet the hell out of yourself. Have fun with it! I already have a goldmine with several people on discussion boards I've never met making some outrageous claims — all I have to do is sock puppet them across other boards. Just piss off someone you don't know and let them do all the talking for you.
Also, be aware of anything strange happening with your web hosting. Feel free to send them a link to this post and/or the court document which details Brewington's Internet harassment tactics.
If you still support Shannon, draw social media attention to the issue. Signal boost everything you can. Don't stay quiet about it because that's exactly what these psychopaths want. Let Mikey and Brewington (and "Judith") know that you won't be intimidated into silence. As sex workers, we already get quite enough of that, thank you very much.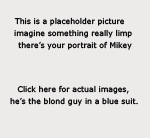 what this is really about
The silencing of women. Specifically: a victim, her friends, and a marginalized community that doesn't have the same access to the legal system as a wealthy white man in his early 50s. I'm not someone who likes playing the victim card, but the facts are very hard to ignore.
We have spoken the truth about a violent predator in an attempt to warn others. He hasn't even been arrested over this (and never will be). Instead, he decides he's the belle of the Victim Ball and hires a convicted felon to threaten escorts. For a guy who's upset about his violence to women becoming public knowledge, he's really not making the right decisions in dealing with it. Beating more women doesn't help. Threatening women via felonious hired guns won't salvage your reputation either, Mikey.
The truth is an absolute defense, though it's a fairly thin thread to hang onto when being threatened with harm. Still, no crimes have been committed by anyone who has posted anything supporting Shannon.
If the laws were different, Shannon wouldn't have been afraid of reporting the assault to the police, and none of this would be happening. Mikey would have been arrested and tried long ago. The case would be settled by now. Then again, if the laws were different, Mikey would never have done what he did with such impunity.
Update 1/15/14: Judith Shockly's Yelp and LinkedIn accounts are down. Fortunately, I have a screenshot of each. And a screenshot of the TinEye results on her profile picture. Just click on the links posted.
Last night, roughly around midnight, Brewington posted Shannon's real name online, along with other names that he thinks are her aliases but are actually other people. I can't imagine they're going to be pleased. I wonder if Mikey's attorney approves of this latest tactic?
Update 1/30/13: Yes, my site was down for over a day. I have a web designer who is doing security upgrades and apparently the upgrade clashed with prior coding done on the blog and brought the blog down until the problem could be found and fixed. It was simply conflicting commands to the WordPress software, no files were affected. I just want to make clear it had nothing to do with Brewington (though the security upgrades were in an effort to prevent an attack by him). Thank you everyone for your concern!
It turns out that Michael Meisenbach's upcoming court date in Seattle for his December domestic violence arrest is February 3. It would be so great to have sex workers present. His defense attorney is Eric Lindell, who also defended Gary Ridgway (the Green River Killer, the whole reason The International Day to End Violence Against Sex Workers exists). Wow. Just wow.
Update 2/5/13: For those interested, Shannon has made a public statement that may or may not answer some questions for ya'll.